Welcome to EasterFerret.com, where you can see everything I've been posting in one place.
YoutubE @Filmnerdcorey
My YouTube channel is Film Nerd Corey, where I post videos about my adventures in home entertainment technology and media.

This is my Patreon, where you can see all the really cool people I support on a monthly basis. I only support high-quality work, so I'm sure you'll find something here you'll enjoy. (Just to clarify, I'm not requesting Patreon support at this time.)

Feel free to connect with me on Twitch @TheEasterFerret. I don't do much streaming myself, but I do a lot of lurking in channels.
---
Origins of the Easter Ferret
You're probably wondering, "What in the heck is an Easter Ferret?" Well, it's simply my internet identity. I wanted to find a name that would be readily available on websites so that I wouldn't have to string a bunch of random numbers together. I think I found one weird enough to do just that! I haven't had any duplicate name problems since the Easter Ferret was dreamt up.

No, I don't have any ferrets and I'm not a ferret fanatic. My mother-in-law has ferrets, which is where my icon came from. The one pictured as my icon is "Poo" who has since passed on. (It's sad that ferrets have short life spans.)
I think ferrets are hilarious creatures and couldn't think of a better animal to represent me in the vastness of cyberspace.
So where did this genius inspiration come from? If you ever do a Google image search for "ferret", you'll probably find this picture of a ferret, with his mouth open, wearing big pink bunny ears.
When I saw that in 2005, I thought it was the most random picture I'd ever seen. It has been my old laptop's wallpaper ever since. I guess after seeing that picture, I couldn't help but make it my online ID.
A simple, yet strange and disturbing explanation, isn't it?
---
Copyright © 2017 by Corey "The Easter Ferret"
All Rights Reserved
Powered by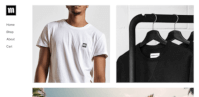 Create your own unique website with customizable templates.